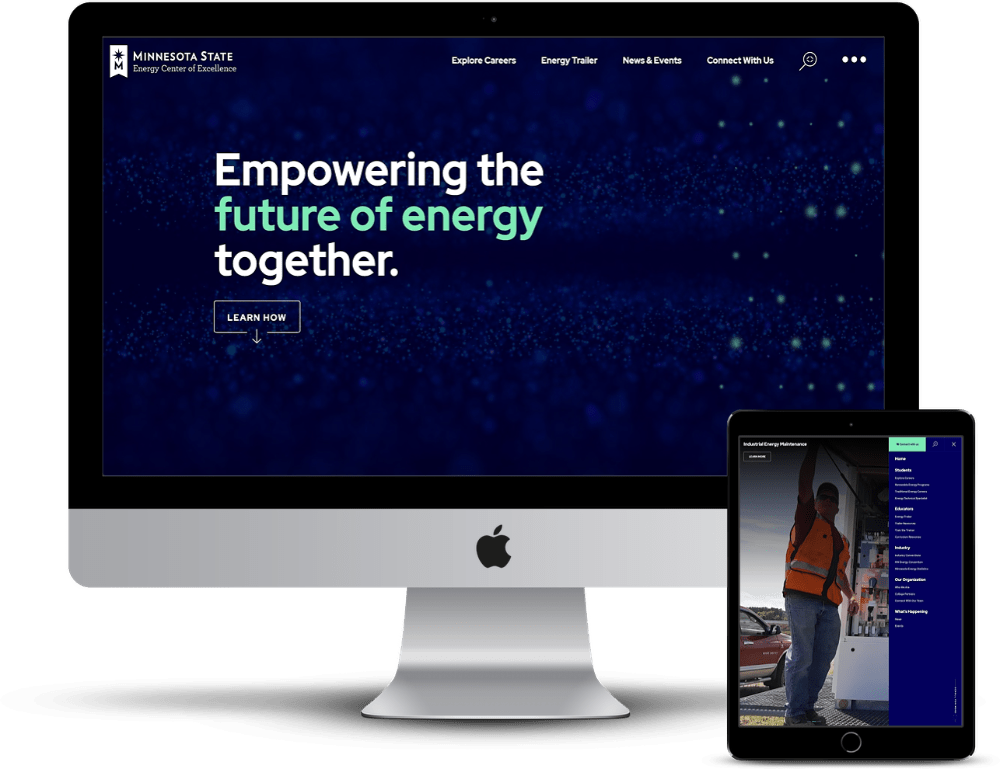 PROJECT DELIVERABLES
Our main goal with the Minnesota State Energy Center of Excellence site was to overhaul the design and drive the target audience towards career-related pages. Furthermore, using those career-related pages to provide the most crucial information to users in a clean and appealing way.
ABOUT THE CLIENT
The Minnesota State Energy Center of Excellence is a consortium of two-year colleges and 4-year universities located throughout Minnesota. Minnesota Energy's goal is to provide resources, tools, education, and industry connections. As well as, develop career awareness and plan outreach for career pathways, ensuring students are well prepared to enter the workplace.
With a large array of college partners, degree programs cover the broad spectrum of energy production technologies including biodiesel, ethanol, fossil fuels, natural gas, power transmission, solar, and wind.
STARTING POINT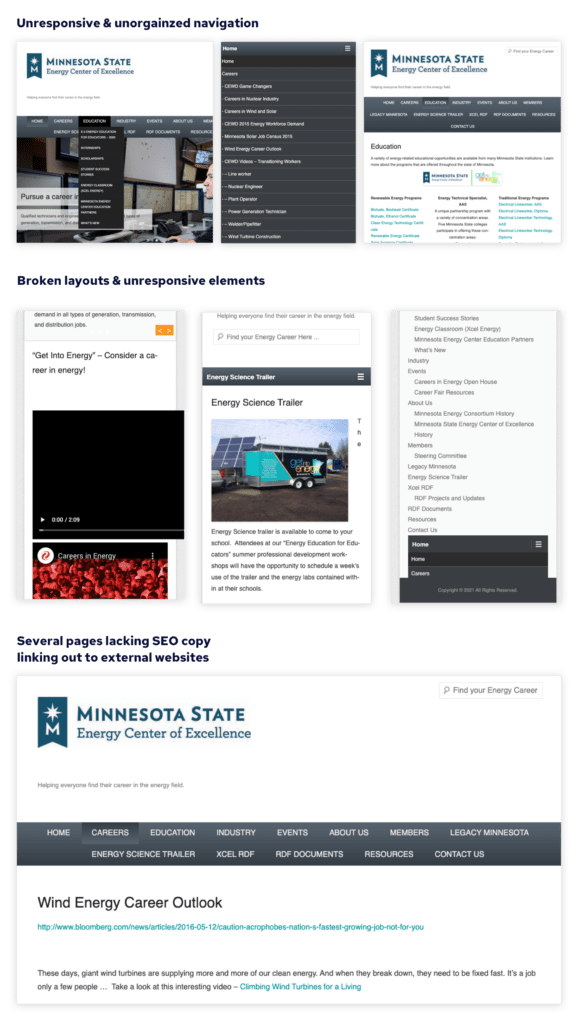 GROUND ZERO OBJECTIVES
Design a new, user-friendly navigation system with primary users in mind (students, educators, and industry partners).
Create a user flow that focused on driving as much traffic to career-related pages as possible.
Provide clear and concise resources for educators.
Promote events and keep their audience informed on important news within the center and their network in a clear and user-friendly manner.
Utilize WordPress Gutenberg for easy editing to ensure smooth updates to the website's pages and products.
BRANDING
COLOR & TYPOGRAPHY
Our goal for the color palette and typography was to play off of the Minnesota State branded colors, particularly their signature navy. The cobalt blue and seafoam teal paired together to create a bold contrast against the fresh white space communicates a sense of innovation, synergy, and credibility. Ultimately, the website aesthetic was designed to intrigue the target audience – middle school to college students to pursue a career in the energy industry. For the typography, our team chose a versatile sans serif typeface that eludes modernity, yet feels friendly and approachable.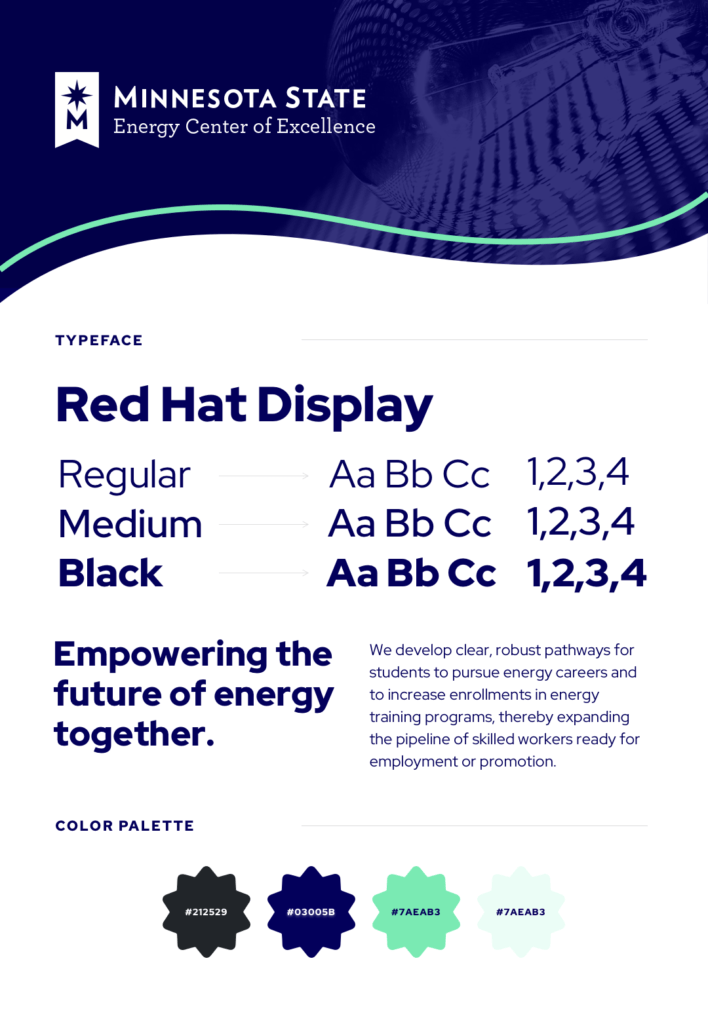 FOCAL POINTS & FEATURES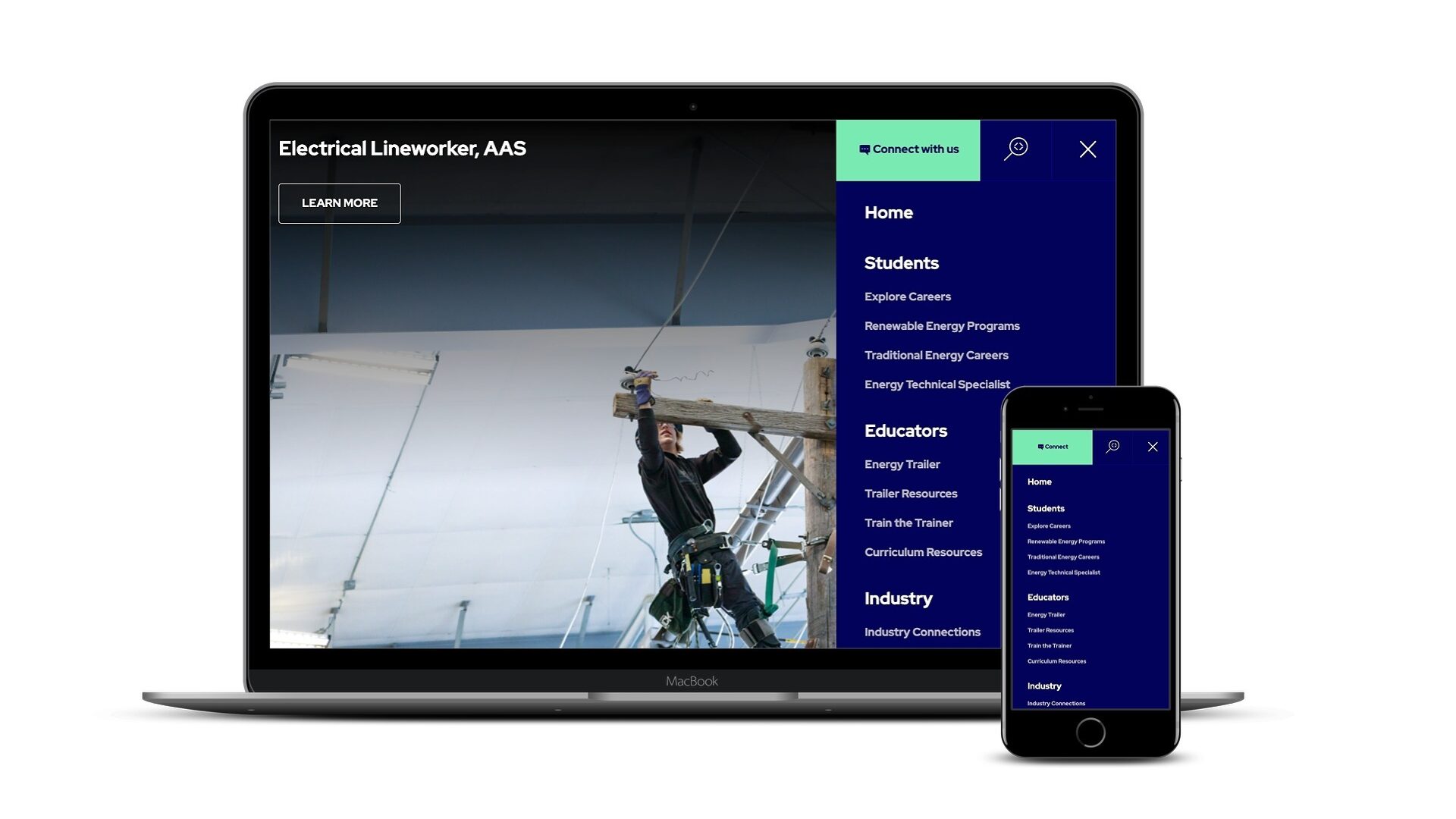 NAVIGATION
Our team overhauled and restructured navigation from scratch, with the three primary target user groups in mind: Students, Educators, and Industry Partners. We prioritized career-related information in the global navigation and on the homepage to drive student traffic to explore careers in energy.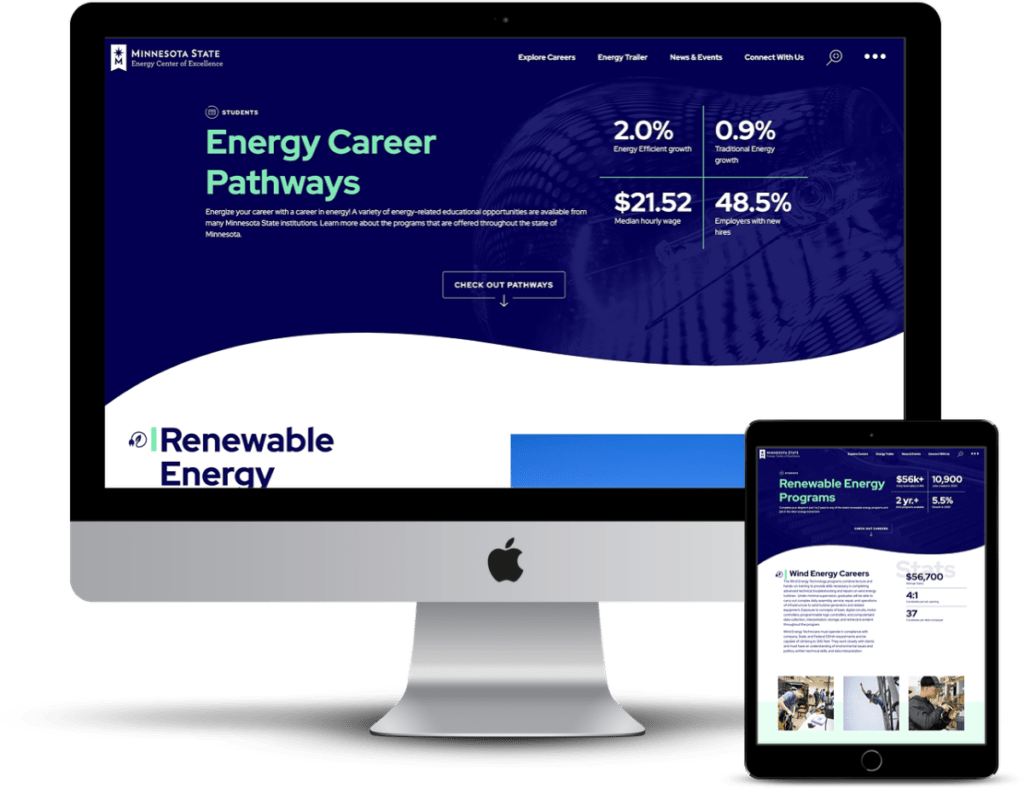 ENERGY CAREERS
One of the primary goals of this website is to get students interested and exciting about a possible career in the Energy industry, with that in mind we set out to create a user flow that focused on driving as much traffic to career-related pages as possible. The first step of achieving this was to create multiple call-to-action pieces leading to those pages. Such as: prioritizing links to those pages first and foremost in the hybrid global menu. Secondly, we reserved a large portion of the homepage to promote these pages as well, by creating a unique animated slider to showcase the three major career pathways.
On the dedicated Career pages, it was important to highlight critical career data to give aspiring students an in-depth look at salary information and job growth at a glance. Beyond the overall information about Solar careers, for example, we bolstered that information with a complete list of campuses that offer related degree programs that link directly to that program to learn more and enroll in that particular program or another related energy career program.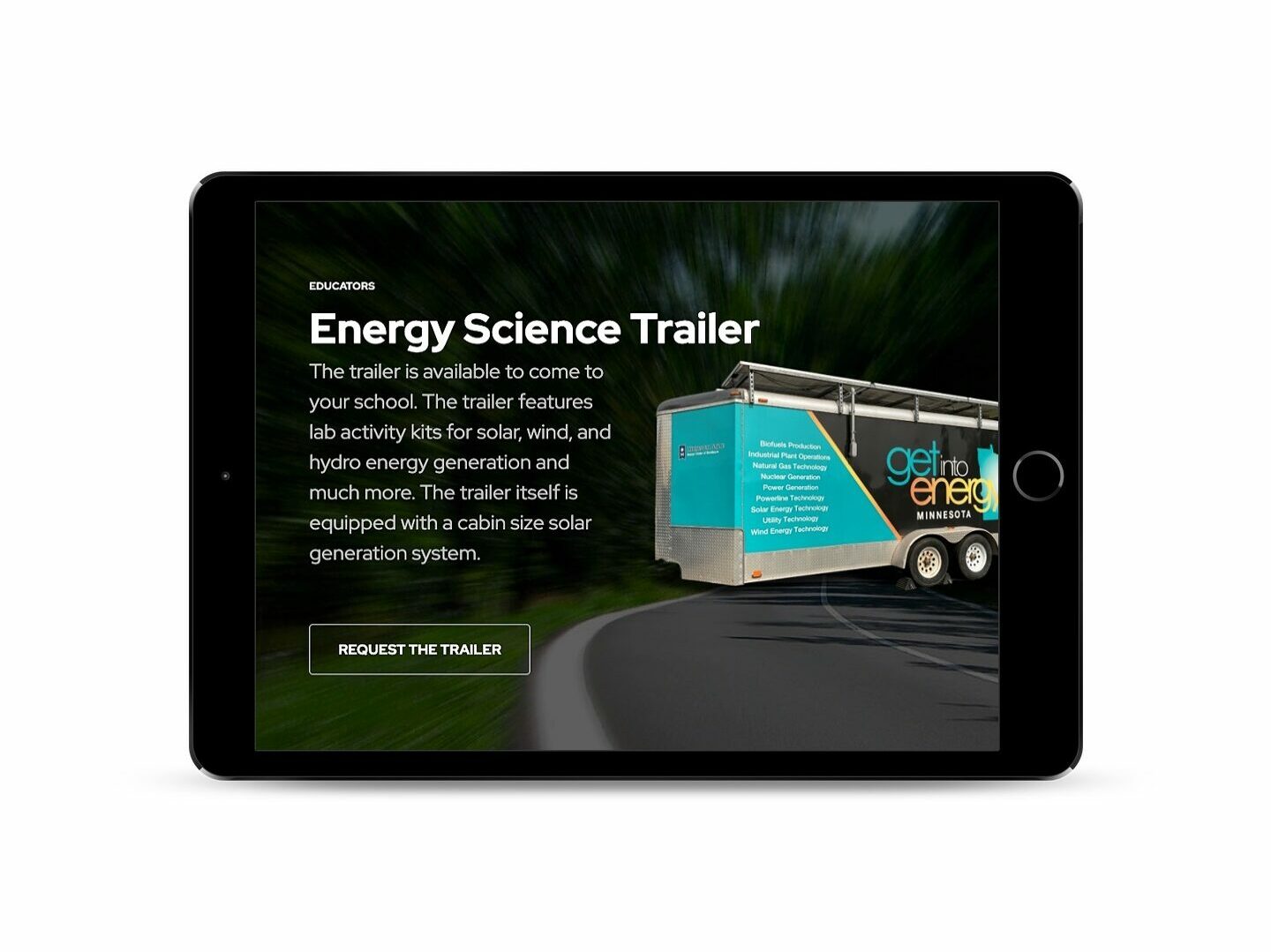 EDUCATORS
Another essential piece to the new website was to create clear and concise resources for educators to benefit from. We accomplished this by creating a dedicated page with programs provided by partners such as Xcel Energy and Minnesota Power. Another way we tied in resources for Educators was through the Energy Trailer Resources, a password protected that gives Educators exclusive access to agriculture-related curriculum for their classroom.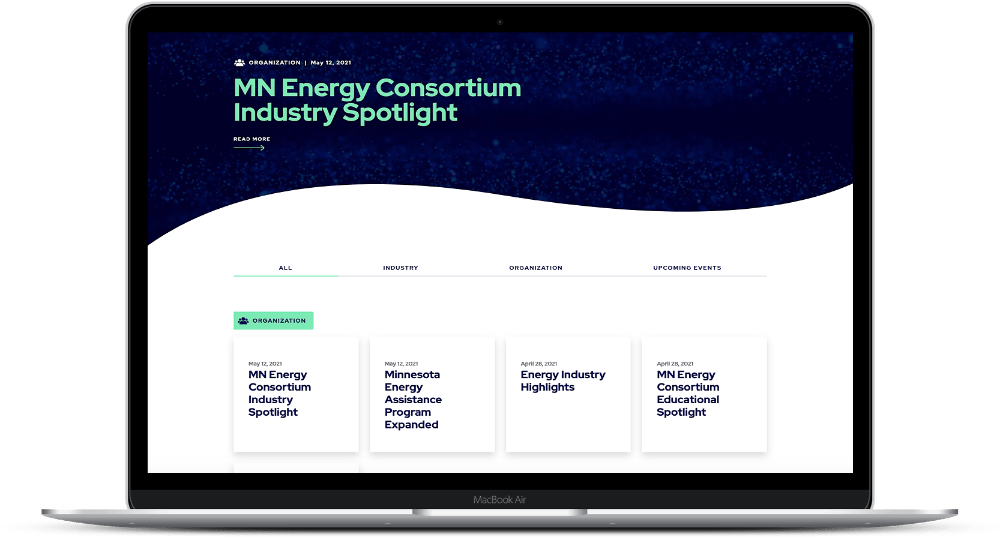 NEWS & EVENTS
We created an entirely new platform for the Minnesota State Energy Center of Excellence's team to promote events and keep their audience informed on important news within the center and their network. To accomplish this, we implemented a custom-designed Event Feed equipped with robust features such as scheduling and event registration to promote a variety of events hosted by the center, schools, colleges, industry partners, and more. For the blog portion of the website, we created a minimal, but effective design and setup that makes it easy for their team to update frequently with pertinent information about all happenings within the center and their entire network.
ENERGIZING THE FUTURE
We are excited to see Minnesota Energy Center of Excellence continue to advocate, educate, and create awareness for careers in energy. We look forward to future collaboration with Minnesota Energy to furthermore drive users to valuable information and opportunities for education and careers in energy.