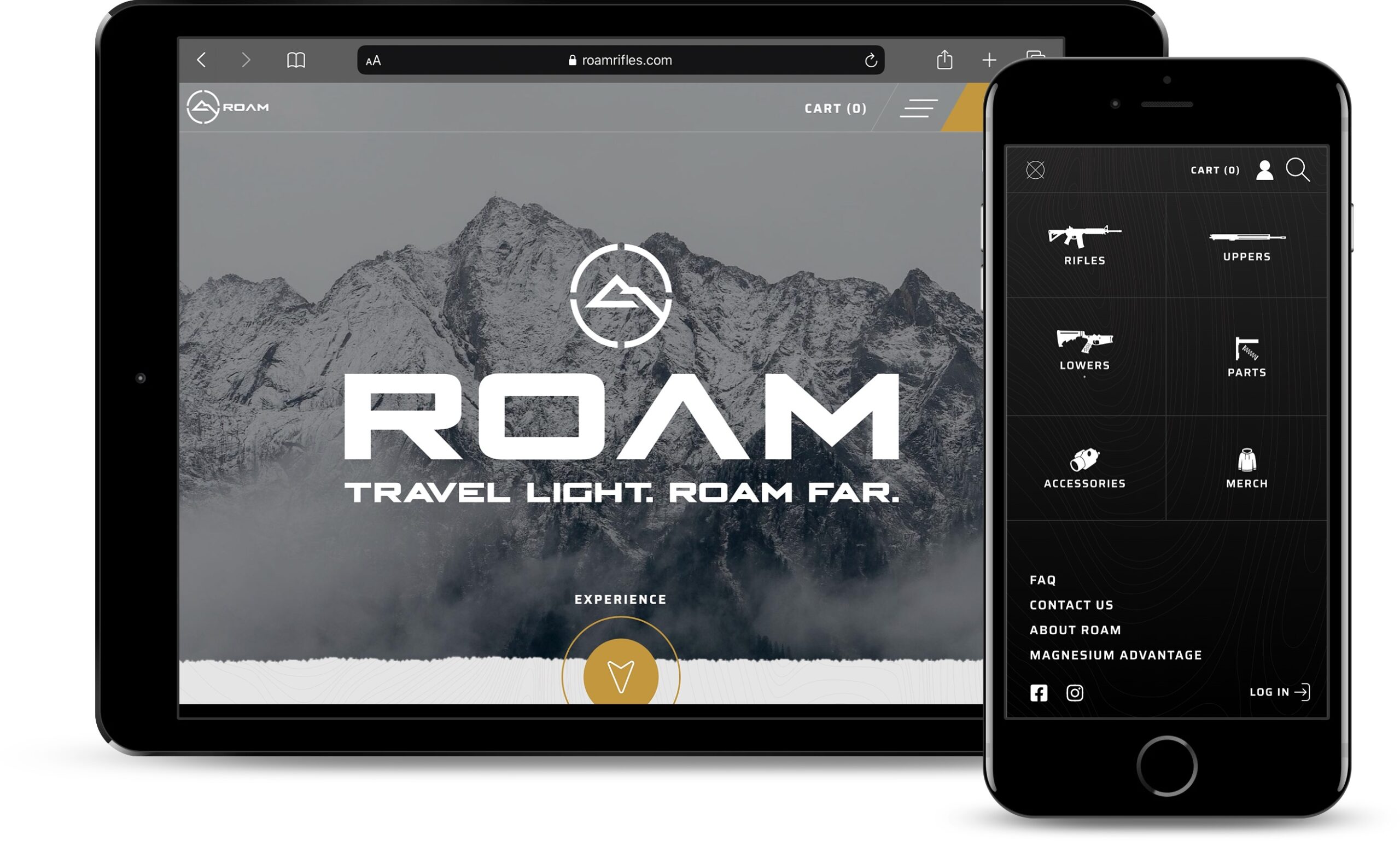 January 2020
Project Deliverables
Our goal was to create a custom e-commerce solution to bring ROAM's magnesium firearms to the market with a bang.
About The Client
Founded in 2018, ROAM takes pride in providing truly innovative and one-of-a-kind products backed by a combined 44 years of engineering experience. For two years prior to their founding, they worked to partner with world-leading experts on magnesium, developing patent-pending designs, proprietary manufacturing processes, and a new abrasion-resistant coating.
They are hunters and sportsmen who believe a day outside, whether at the range or in the field, is a day well spent. From the first "napkin sketches" in 2014 to their first successfully harvested deer in 2019, their team is committed to providing high quality, dependable, lightweight rifles proudly manufactured in the USA at their location in Grand Forks, North Dakota.
Ground Zero Objectives
Create a visual theme that is contemporary, user friendly, and effectively showcases their products
Design a menu that is innovative and acts as a central hub of the website
Facilitate a user experience that makes it easy to shop across all devices
Introduce a search feature that quickly finds products, documentation, and critical information across the website
Design a well styled checkout experience that factors in usability as well as mandatory FFL verification process
Build a custom infographic to educate and inform potential buyers of the benefits of magnesium firearms
Utilize WordPress Gutenberg for easy editing to ensure smooth updates to the website's pages and products
---
Branding
Color & Typography
With a new logo design already ready to go, we worked with the ROAM team to compliment it by planning out a color palette and select fonts that showcased their outdoorsy nature as well as conveying the quality and durability of magnesium.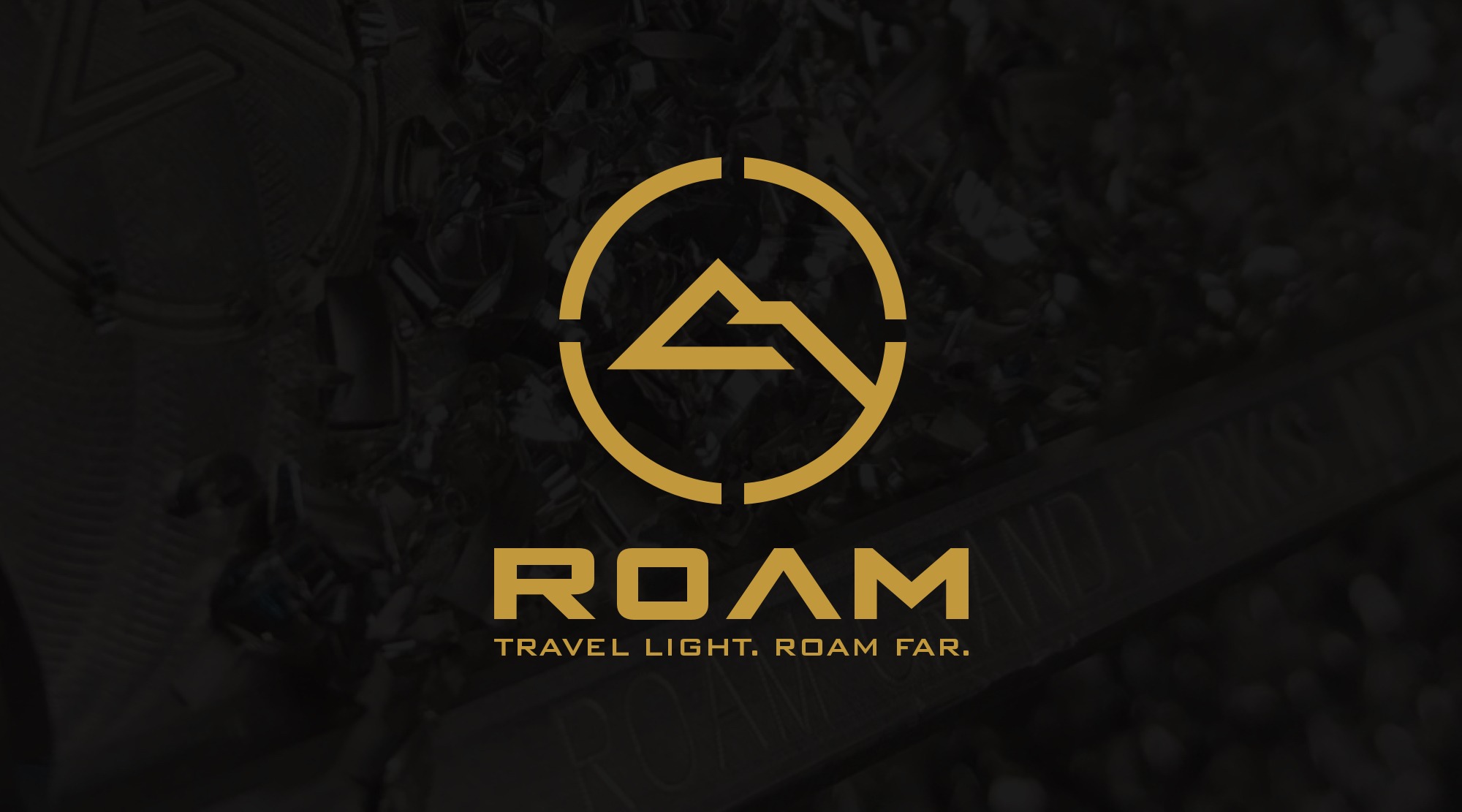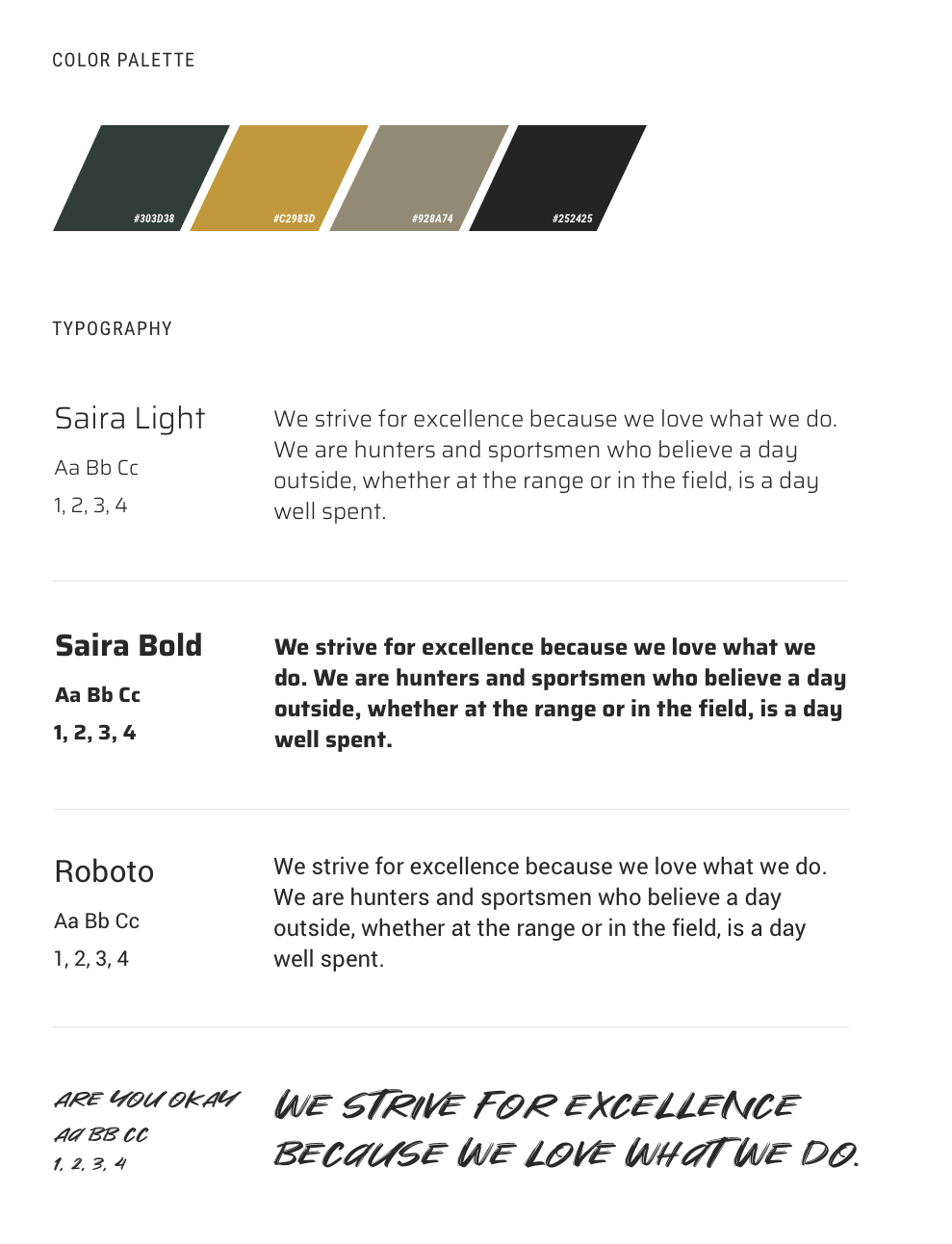 ---
Focal Points & Features
Contemporary Navigation
Our team wanted to show the different products available by pairing traditional menu text with custom icons and feature a textured topographic map design illustrated by our graphic designer Brooke. Beyond the aesthetics, this menu offers functionality and a user friendly set of tools such as the powerful search feature, login, cart, and unique cross-hairs close component.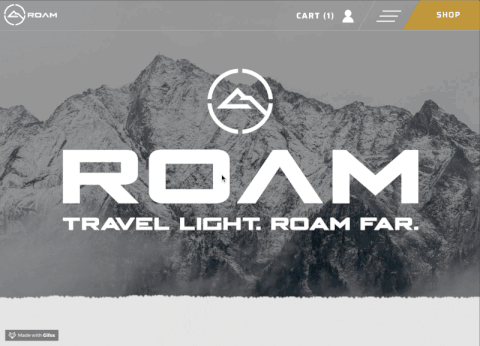 ---
From the Ground Up Custom Checkout
A great checkout experience is key to any successful online shop, with that in mind we created a completely customized design and user flow for the account, shopping cart, and checkout areas of the site. We integrated the branding elements into the visual interface, so no matter what screen you are on it feels cohesive and intentional. The checkout experience also includes custom features such as the FFL (Federal Firearms License) verification.
Initial Concepts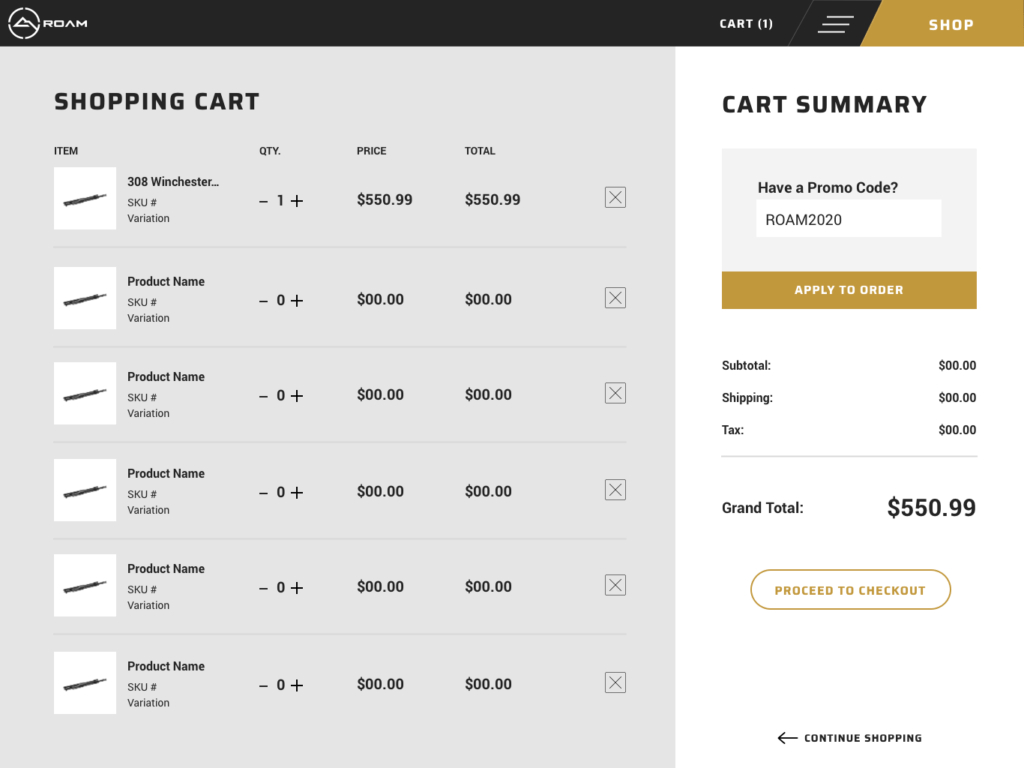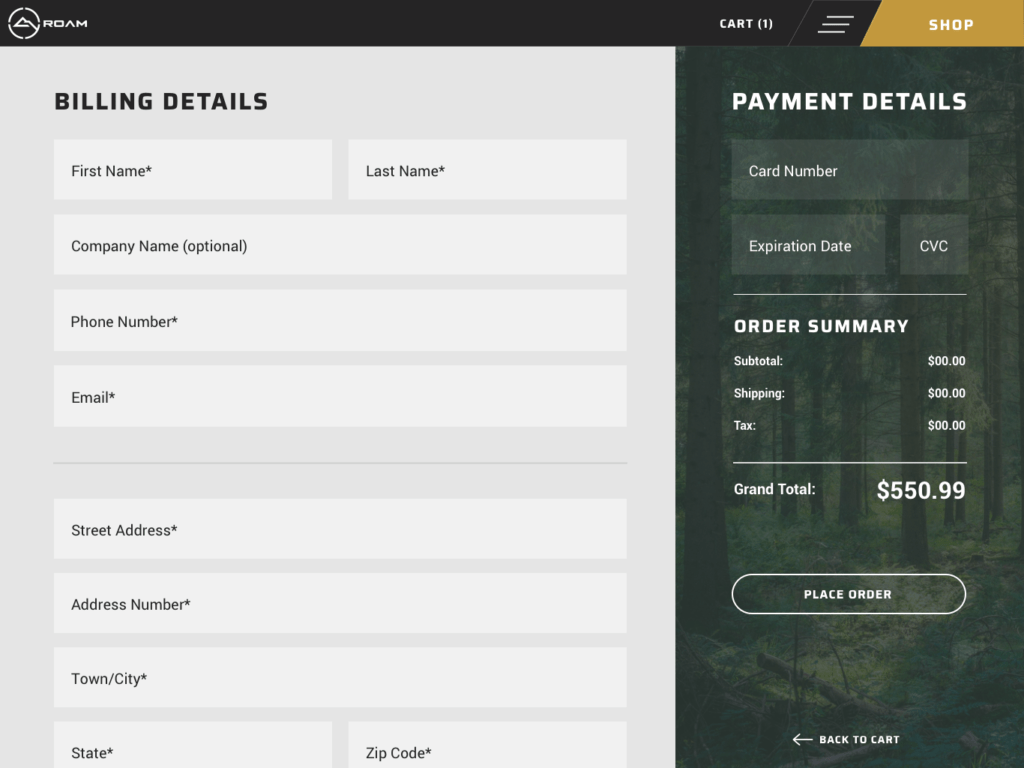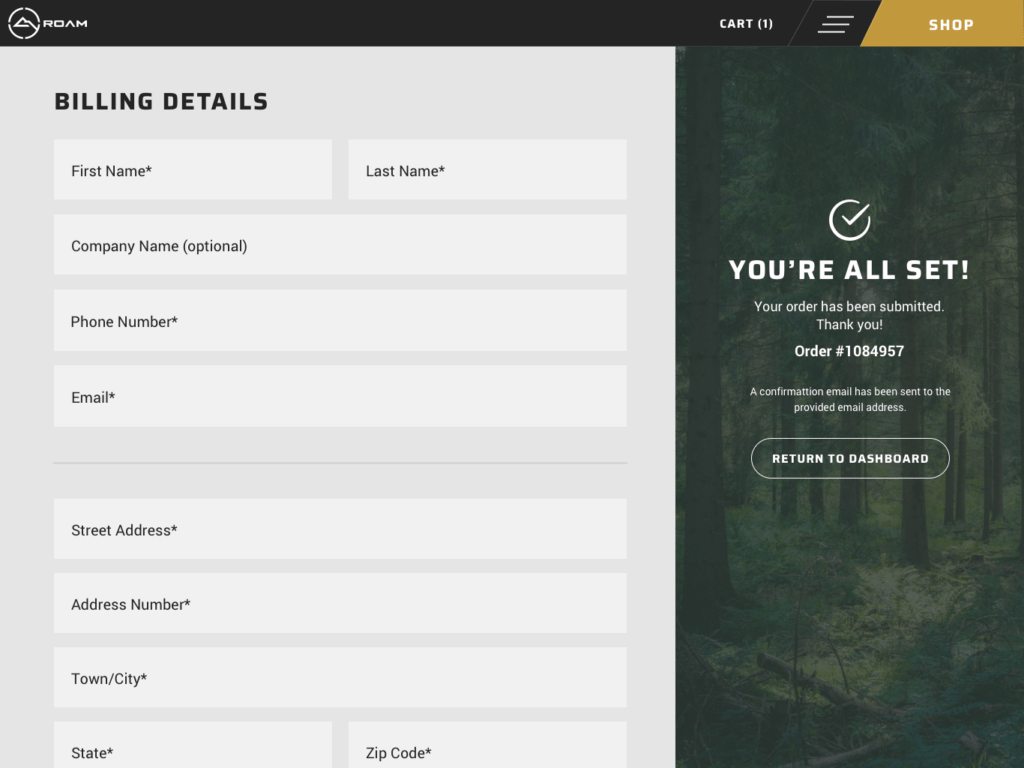 Working Concept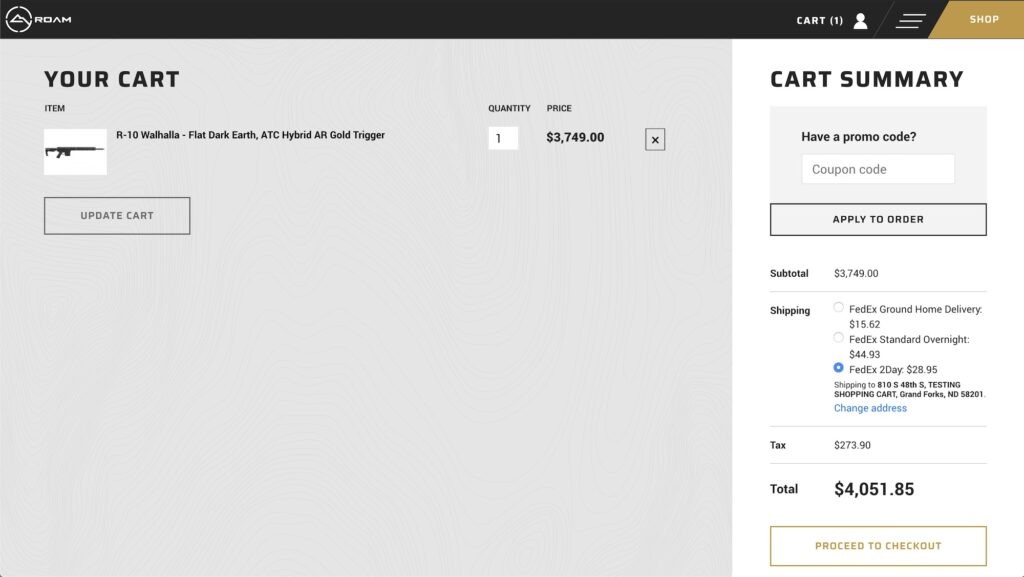 ---
Magnesium Advantage Infographic
A crucial element of the website, was to create a helpful and informative infographic that would help to communicate and educate users about magnesium. There are many preconceived notions about magnesium, this infographic aimed to debunk what we may have learned in science class and inform users about the properties, industries, and history of magnesium.

---
Roaming Forward
After a successful launch of the online shop, we are excited to see how the ROAM brand will flourish in the firearm market bolstered by their competitive advantage: magnesium specialty products. We look forward to further collaborating with the ROAM team and continuing to ramp up online sales and establish magnesium components as the superior choice in the firearms industry.