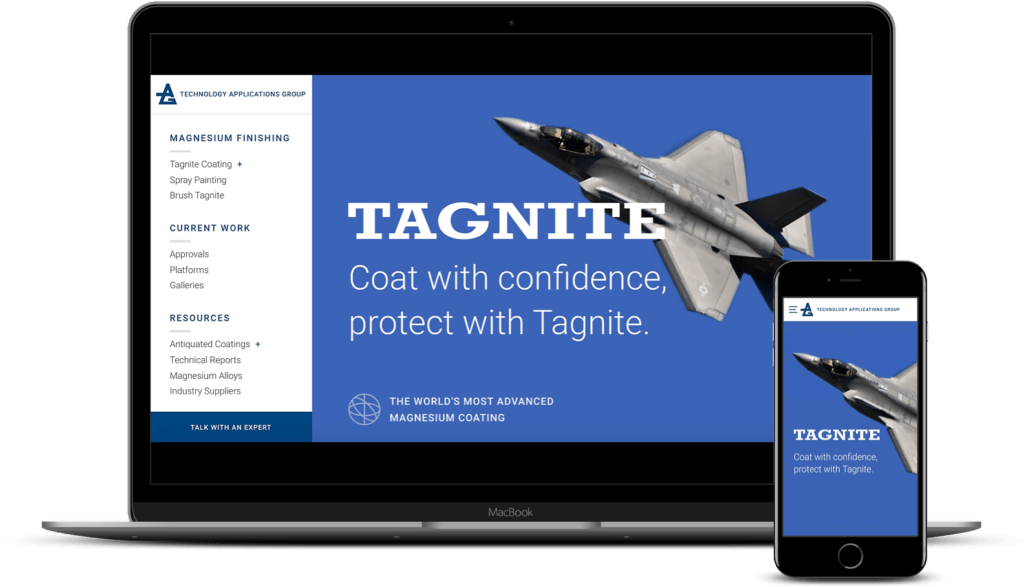 PROJECT DELIVERABLES
With a site running from the late 90's, Tagnite was in much need of a refresh. The main goal for Tagnite was to completely update, redesign, and refresh the site. Our focus was on showcasing the superiority of Tagnite Coating through information and images and providing users with a clean and organized experience.
ABOUT THE CLIENT
Technology Application's Group (TAG) headquartered in Grand Forks, ND developed Tagnite Coating as a result of finding existing coatings were incredibly inadequate for the environments in which they were being used. Unlike Tagnite, existing coatings lacked inherent corrosion resistance and were extremely hazardous to the environment.
The Tagnite Coating developed has unrivaled corrosion resistance in addition to being unmatched in coating uniformity and a great base coat for paint applications. Tagnite Coating is also recognized by the EPA as having an environmental advantage. Tagnite does not use chromates or other heavy metals in any pre or post treatment solutions that have been found to be hazardous for the environment.
Tagnite Coating is used by many aerospace and defense industries. Some of these platforms include:
KC-135 Stratotanker
MD 520N
AH-64 Apache
F22 Raptor
STARTING POINT
GROUND ZERO OBJECTIVES
Perform a complete overhaul and refresh of the site, being it had not been updated since the late 90's and contained a large amount of out-of-date and broken elements.
Provide resources and documentation for engineers and aerospace industries.
Showcase the superiority of Tagnite Coating through information, examples, studies, and images.
Display the multitude of platforms that utilize Tagnite Coating and their approvals.
BRANDING
LOGO REFRESH
Our first priority was to accomplish a simple refresh of the dated logo designs to optimize them for the web and convey a more contemporary look to reflect their cutting-edge technology.
COLOR PALETTE
For the color scheme, our goal was to create a palette that communicated attributes of the Tagnite product – trustworthiness, strength, and integrity. With these attributes in mind, we choose shades of blue and gray. For the neutral color, our intention was to mimic the off-white, nearly porcelain hue of the physical Tagnite coating, this color acts as a foundation for the blues and grays to contrast against.
TYPOGRAPHY
For fonts on the website, our intention was to blend modern sleek lines with an industrial aesthetic. To achieve this, we decided on Roboto as the primary typeface. Its minimal lines and variety of weights create a versatile look that is legible and user-friendly across the website.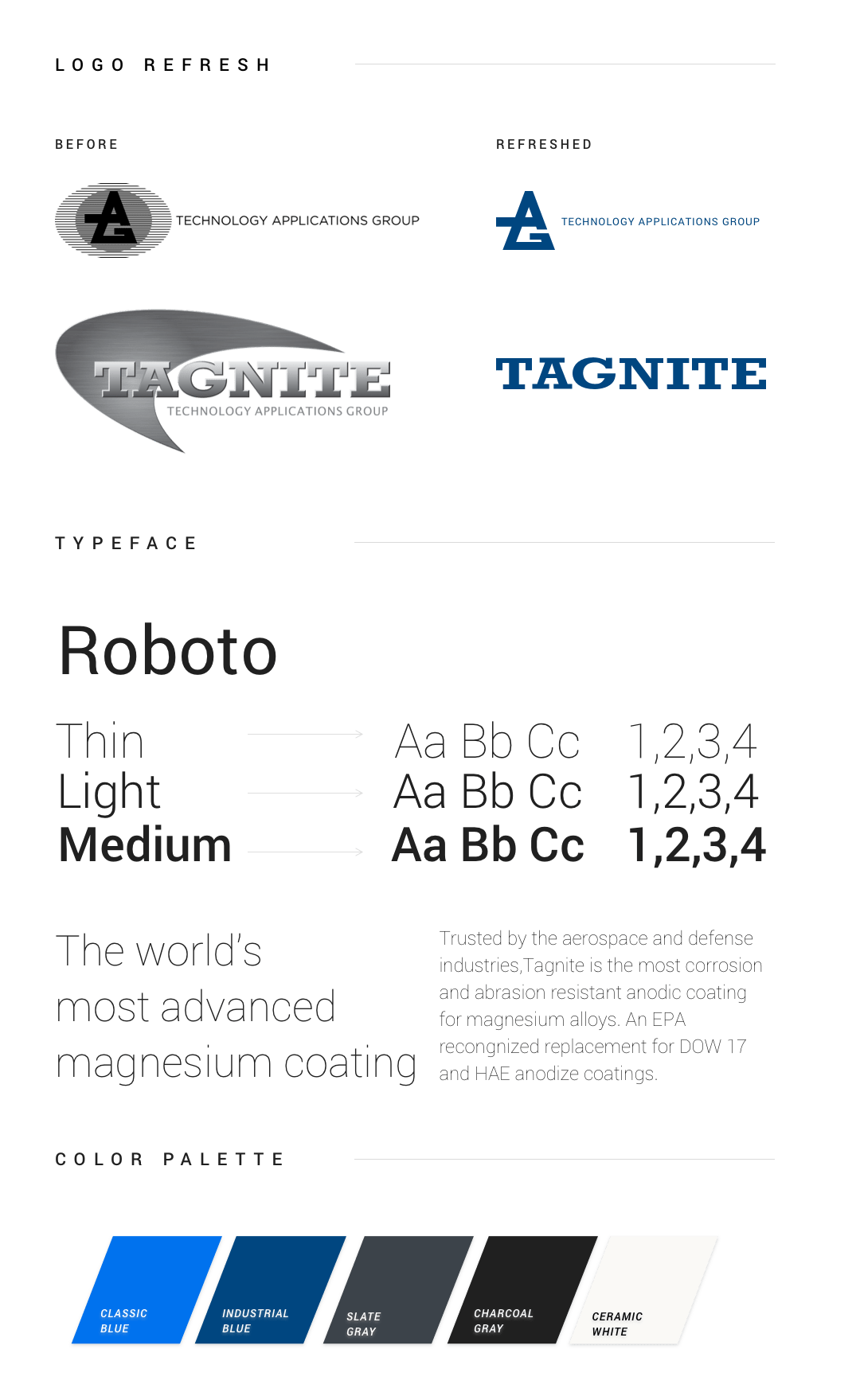 FOCAL POINTS & FEATURES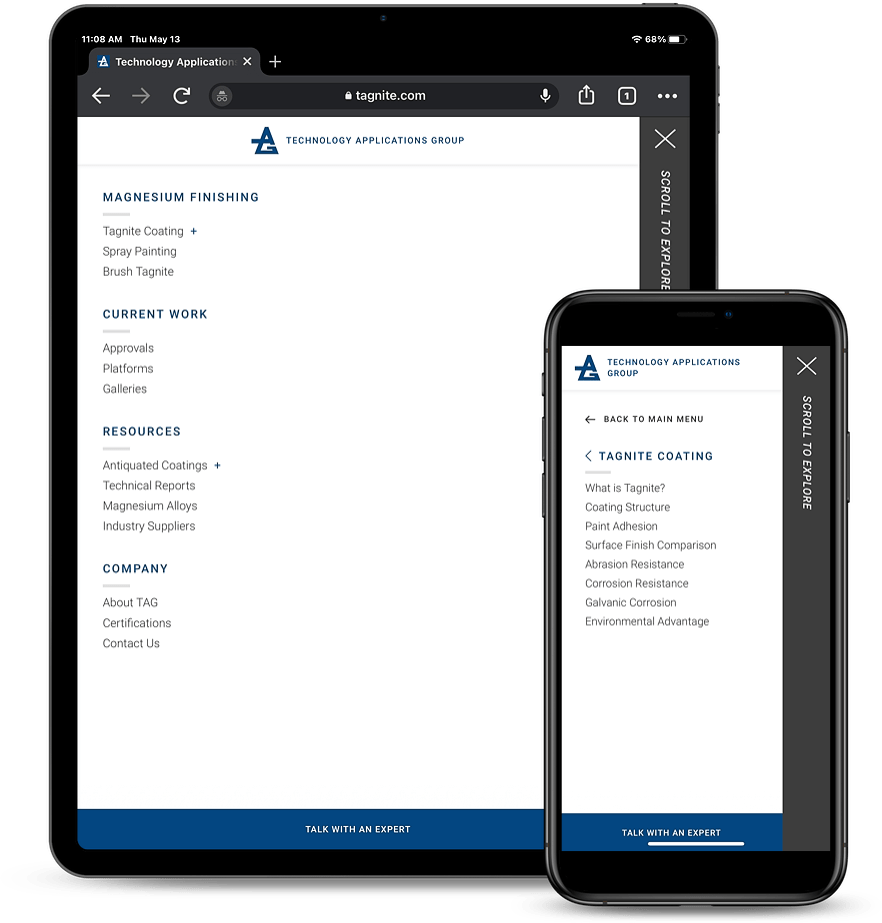 Creating a Navigation System
Being an extremely informational site, creating a clean menu system for simple user navigation was a priority. Our team designed a menu system that allows users to find information and navigate throughout the site with ease. This enables users to gain as much value from the information as possible.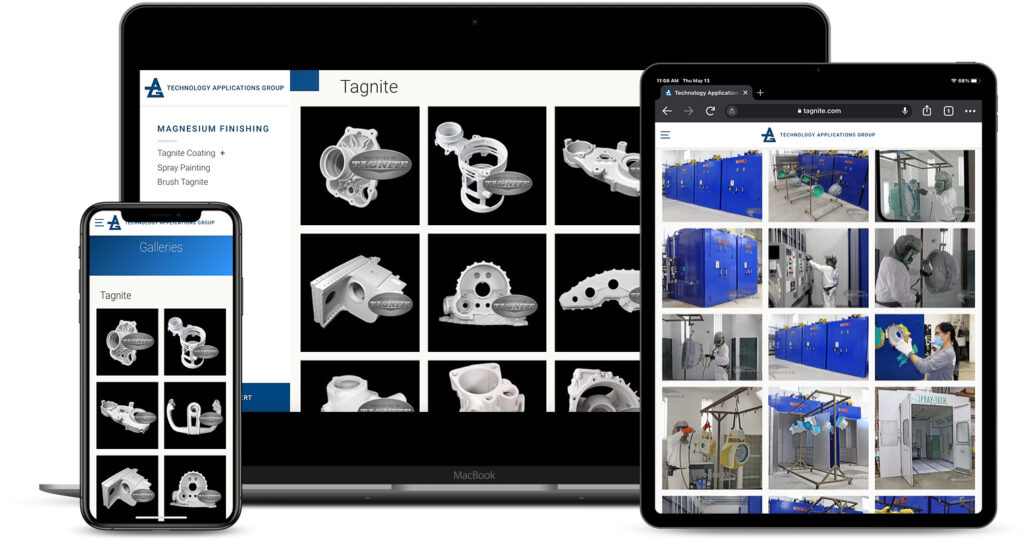 Galleries Showcasing the Product
Getting users information on Tagnite Coating is crucial, but images also play a huge role in showcasing the product. Being so, our team wanted to ensure users had ample opportunity to view Tagnite Coating in action. Creating advanced galleries that demonstrate uses of Tagnite Coating gives users a better understanding of the product and its uses.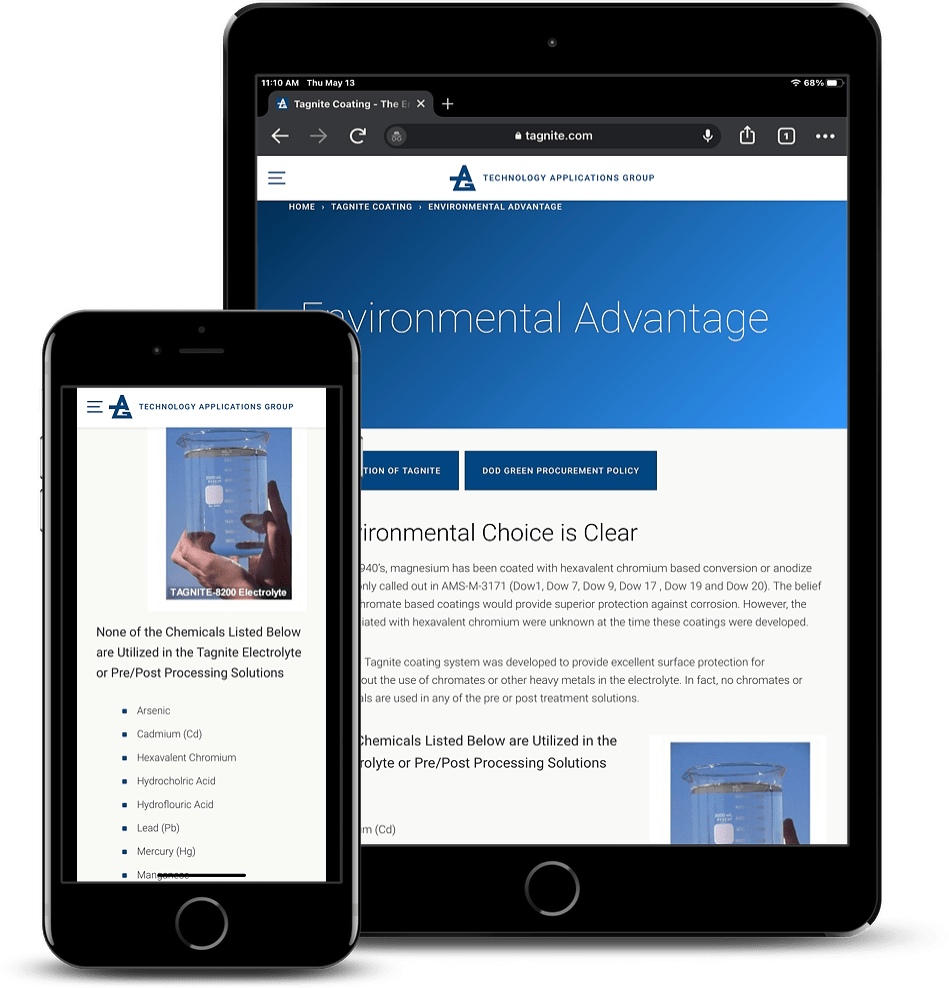 Recognized by the EPA
A huge selling point of Tagnite Coating is what makes it different from its competitors. Tagnite's superior corrosion resistance and recognition from the EPA as being better for the environment than other coatings is a key advantage our team wanted to ensure to showcase on the site.
Flying to the forefront of anodized coatings
Tagnite continues to drive business as a frontrunner in corrosion resistant and environmentally friendly magnesium coatings. With a successful refresh of the website, we are excited to see Tagnite's business soar to new heights.