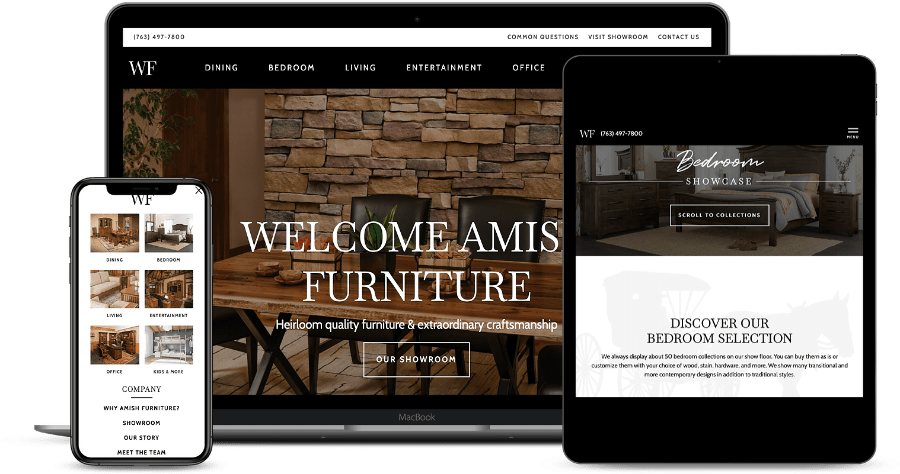 PROJECT DELIVERABLES
Our main goal was to completely redesign the Welcome Furniture site focusing on cleaning up the user interface, providing users with clear navigation throughout the site, and showcasing as much of their inventory as possible.
ABOUT THE CLIENT
Welcome Amish Furniture first opened their doors in Crystal, Minnesota in October 1982. After 11 years of steady growth the owners retired, selling to one of their salesmen Ray Wiley, and his brother Wes Wiley.
Although Amish-made furniture wasn't shown at Welcome Furniture until 2000, Amish-made product sales took off after moving to their current showroom in Albertville, MN and now accounts for 90% of sales.
The difference with Amish furniture is seen in the level of quality and attention to detail. With heirloom-quality craftsmanship and the ability to customize pieces to fit customers' tastes seamlessly, Welcome Furniture continues to break stereotypes of Amish furniture and drive sales of beautiful Amish-made pieces.
STARTING POINT
GROUND ZERO OBJECTIVES
Design a visual theme that is contemporary, user-friendly, and effectively showcases their furniture collections.
Construct a menu that features the furniture in a clean and innovative way.
Create a pristine user experience that is responsive across all devices.
Drive users to experience Amish furniture in a new light.
Utilize WordPress Gutenberg for easy editing to ensure smooth updates to the website's pages and products.
BRANDING
COLORS & TYPOGRAPHY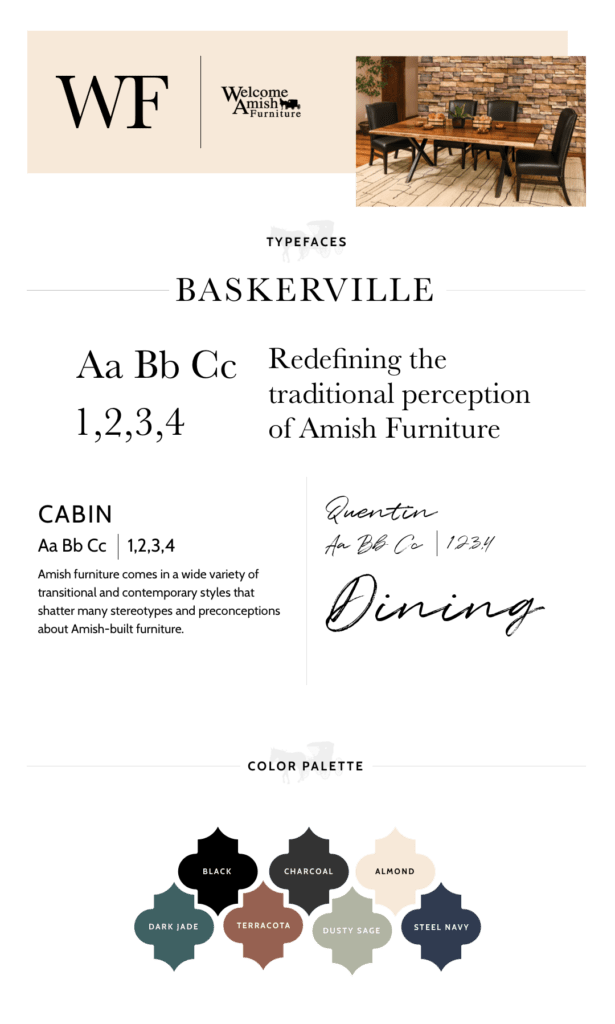 The color palette was inspired by the showroom decor that features warm earthy tones mixed with the dark contrast of the American hardwoods that come in a variety of finishes. For the typography, we blended a traditional serif with a modern sans serif typeface to bridge the gap between the heirloom heritage of Amish furniture and contemporary aesthetic. As an accent, we incorporated the elegant brush font, Quentin, as a nod to the organic shaping and lathing of the wood by the master Amish craftsmen.
FOCAL POINTS & FEATURES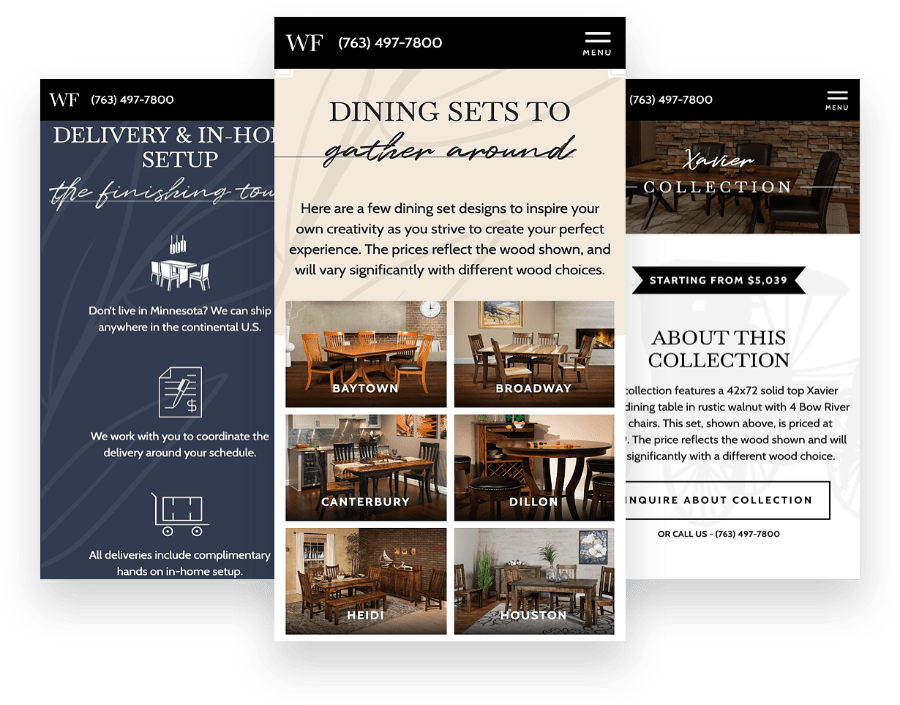 Creating an Online Showcase
The goal for this site was to feature as much of Welcome Furniture's inventory as possible. Instead of creating an ecommerce solution, we wanted to build a showcase of products to bridge the gap between online and in person shopping.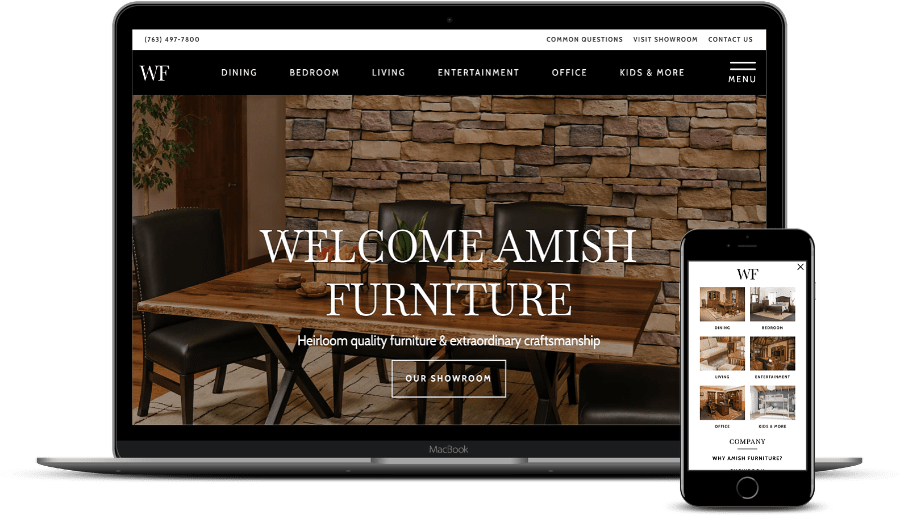 A New Menu Presentation
Unlike many ecommerce solutions, creating an online showcase drove our team to create a visual navigation system that aids in featuring the furniture itself.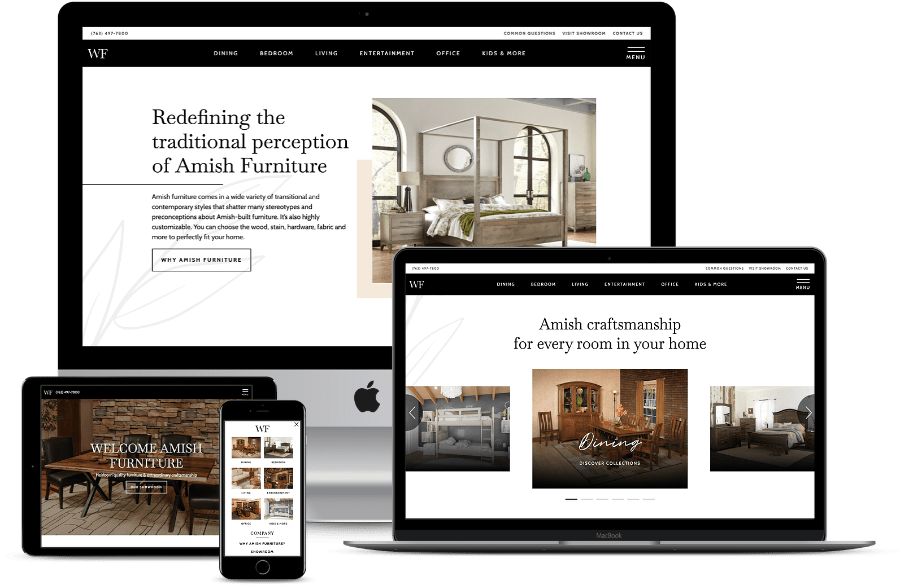 Optimize the Experience
Mobile first optimization has become prevalent in today's world. A large part of this project was ensuring seamless responsiveness that captures users attention across all devices.
BREAKING THE STEREOTYPES OF AMISH FURNITURE
Welcome furniture continues to break the stereotypes of Amish-made furniture by showcasing heirloom quality, modern, and beautiful furniture. We are excited to see Welcome Amish Furniture continue to thrive and be a part of the journey to come.